Evolution of Motor Vehicles Act
Published on October 14, 2019. EST READ TIME: 5 MIN
Travelling by car or a two wheeler has become preferred mode of transportation for crores of Indians as they are considered to be safe and convenient for travel. However rash driving and poor conditions of road leave the motorists vulnerable to accidents.
A major reason for rise in number of people losing their lives in road accidents has been negligence of traffic rules on the part of motorists. In 2018, around 1.49 lakh people in India died from road accidents and there were 4.61 lakh road crashes.
In the past decade the nation has lost 1.3 lakh people per year on an average due to road accident. This figure of road deaths is more than population of some of the cities like Darjeeling, Roorkee, Greater Noida. Majority of victims are in the age group of 20-40 and are bread earners for their families. Any disability or unfortunate demise of these young people can place a immense financial restraint on their families. According to a study done by UN Economic and Social Commission for Asia and Pacific (UNESCAP) has revealed that our nation loses $58 billion annually due to road accidents.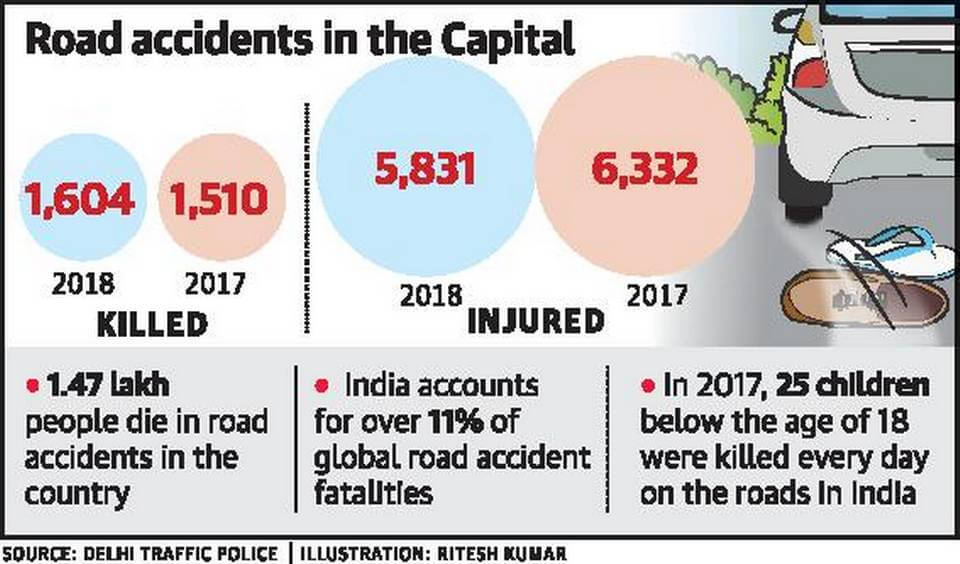 Brief History on Motor Insurance Legislation
Government of India has been grappling with this scenario and has come with legislations aimed at making travel much safer. It has enacted legislations from time to time to meet this objective.
Indian Motor Vehicles Act 1914

Motor Vehicles Act 1939

Motor Vehicles Act 1988

Motor Vehicles (Amendment) Act 2019
India is also signatory to United Nations Decade of Action for Road Safety which aims to reduce road fatalities by 50% by 2020.
As per Supreme Court of India order effective September 1, 2018, new cars/two wheeler purchased would need to have a long term third party insurance policy of 3 years/5 years respectively, also the Compulsory Personal Accident (CPA) cover was increased from Rs 2 lakhs to Rs 15 lakhs.

Insurance Regulatory and Development Authority of India (IRDAI) issued a circular, according to which personal accident component was unbundled from motor insurance from January 1st 2019.

Insurance Regulatory and Development Authority of India (IRDAI) issued a circular according to which from September 1, 2019, motor insurance companies would be able to offer separate standalone annual Own Damage cover, if opted by policyholder for cars and two wheelers.
Motor Vehicle Amendment Act 2019 has strong implications for the offenders; let's look into the fines and penalties that will be imposed starting September 1, 2019.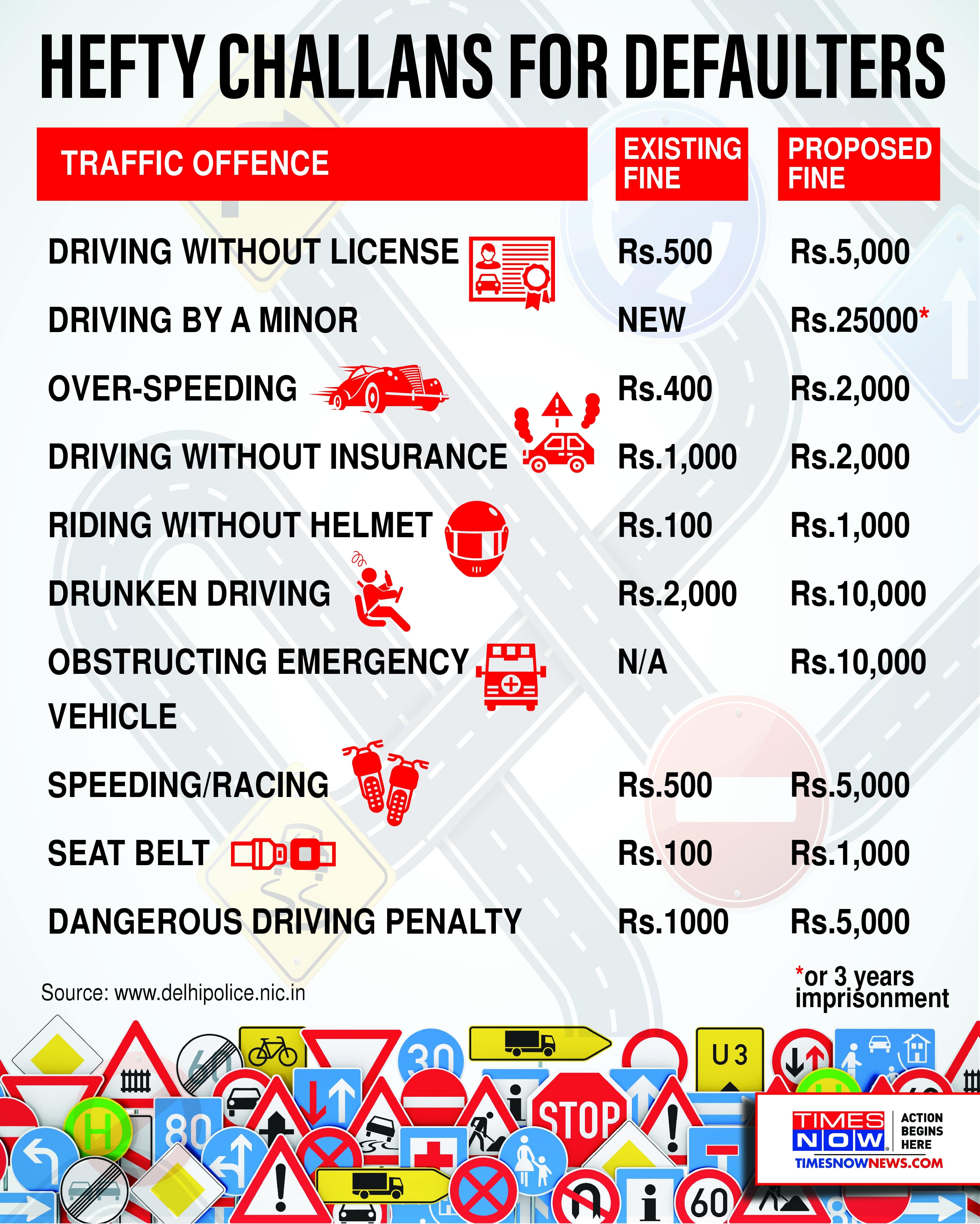 Need of Motor Insurance
We all are eager to reach our destinations on time and in the process mistakenly or genuinely forget to follow certain rules. As a responsible driver in our country, it's imperative that we adhere to the rules of driving in our country. Under Motor Vehicles Act 1988 and the recently enacted Motor Vehicle Amendment Act 2019, it is mandatory for all the motorists to have a valid driving license while driving their vehicles. The hefty fines that have been enacted in the Motor Vehicle Amendment Act 2019 would act as a deterrent for the errant drivers and restrain them from breaking the driving rules.
Apart from mandatory regulatory requirement, it is in our best interest to have a valid two wheeler insurance or a car insurance at all times. Let's look in brief the types of motor insurance coverage available to the riders.
Third-Party Policy: It protects the insured from the liability arising out of any 3rd party injury or death, also damage caused to the 3rd party property is covered. Further your may also opt for personal accident cover for owner driver for a sum insured of Rs 15 lakhs.

Comprehensive Insurance: This plan offers coverage against damages to your vehicle from natural calamities like hurricanes, fire, earthquake, manmade events including riots, strike etc. In addition to this it covers any third party liability in term of death, bodily injury and property damage. Further, you have to opt for personal accident cover for owner driver for a sum insured of Rs 15 lakhs.

Standalone Own Damage Insurance Policy: Another type of insurance policy which you can buy to safeguard your vehicle is Standalone Own Damage insurance policy. This plan will provide protection to your vehicle against theft, fire, flood, earthquake etc and is similar to the own damage cover available under comprehensive insurance policy.
All good things comes with a caveat so you will have to have a mandatory Third Party or Liability only insurance policy for the desired policy duration failing which you cannot buy this insurance policy. Further, this policy can be offered only to Private car and Two wheeler and not to other types of motor vehicles.
Ways to Buy or Renew Motor Insurance
Traditionally motor insurance has been bought by the people from the insurance agents, however with penetration and widespread use of internet, people have started adapting to buying motor insurance online in a big way. The major advantages of buying motor insurance online is that you would be able to get your insurance policy in an instant and would be able to save yourself from the hassles of paper work.
Renewal of motor insurance can also be done online where you can renew your insurance policy from the convenience of your home and at any time you are comfortable with, you no longer have to wait for your motor agent to turn up. Payment of the premium is done over secure channel where the confirmation of the payment can be received as soon as the premium amount gets deposited in the insurers account.
Add-ons are additional features on a bike/car insurance policy that you can avail by paying some extra premium. They help you to customize the plan as per your needs. Some of Add-On include Zero Depreciation Cover, Return to Invoice Cover, Roadside Assistance Cover, Key Replacement Cover etc.
Why HDFC ERGO??
HDFC ERGO is a brand trusted by 1 crore + customers. The company offers insurance products across categories which include motor, travel, health and home in the retail category and insurance products in property, marine and liability insurance on the corporate side.
Overnight Car repair Services in 16 cities

Transparency and seamless claim process

Dedicated In house claim settlement and customer support working 24*7

Online Buying and Renewal.. Go paperless

6,800+ network garages across country

Seamless and Easy Claims! Assured

Registration and Tracking of claims through the website

Regular claim update on the mobile

Facility of preferred mode of claim settlement
Disclaimer: The above information is for illustrative purpose only. For more details, please refer to policy wordings and prospectus before concluding the sales.


This blog has been written by
Mukesh Kumar | Motor Insurance Expert | 36+ years of experience in insurance industry
A veteran in the insurance industry, Mukesh Kumar has the expertise of handling various functions like Business Development, Underwriting, Claims, Human Resources, Quality Management and Marketing. With rich knowledge of the industry, he loves to share his views on topics of insurance sector and takes special interest in educating people on advantages of having insurance.
Mr. Mukesh Kumar recommends "getting your two wheeler insured from HDFC ERGO, a brand serving more than 1 crore+ customers. With overnight repair services and more than 6,800+ network garages, you can be assured of help in event of any damage to your vehicle".