This Father's Day – Be Smart! Gift a Health Insurance
Published on 18th June 2020 On my 26th birthday, my father asks me,
"What is that one thing we must always have and pray never to have to use?
I have no clue. Coz, this is a new question.
"Of course, Health Insurance ."- He takes a pause, and says,"Kid, You remember when you were 6 and you got high fever? That night, me and your mother, none of us could sleep."
"I knew I will do everything to keep you safe but it didn't seem enough. Since then every moment that I had to leave you and go to buy something or to work, you will always be on my mind. That is when I decided to get health insurance plan for our family"
"See, I thought, I never want to have to claim if it means your health is at risk. But if I have to, it wouldn't be a problem. And since then I have slept better. Being safe is smart, right?"
Yeah! He is smart like that!
And so is every father I know.
Like papa says being safe is smart, it's time for you to play your part.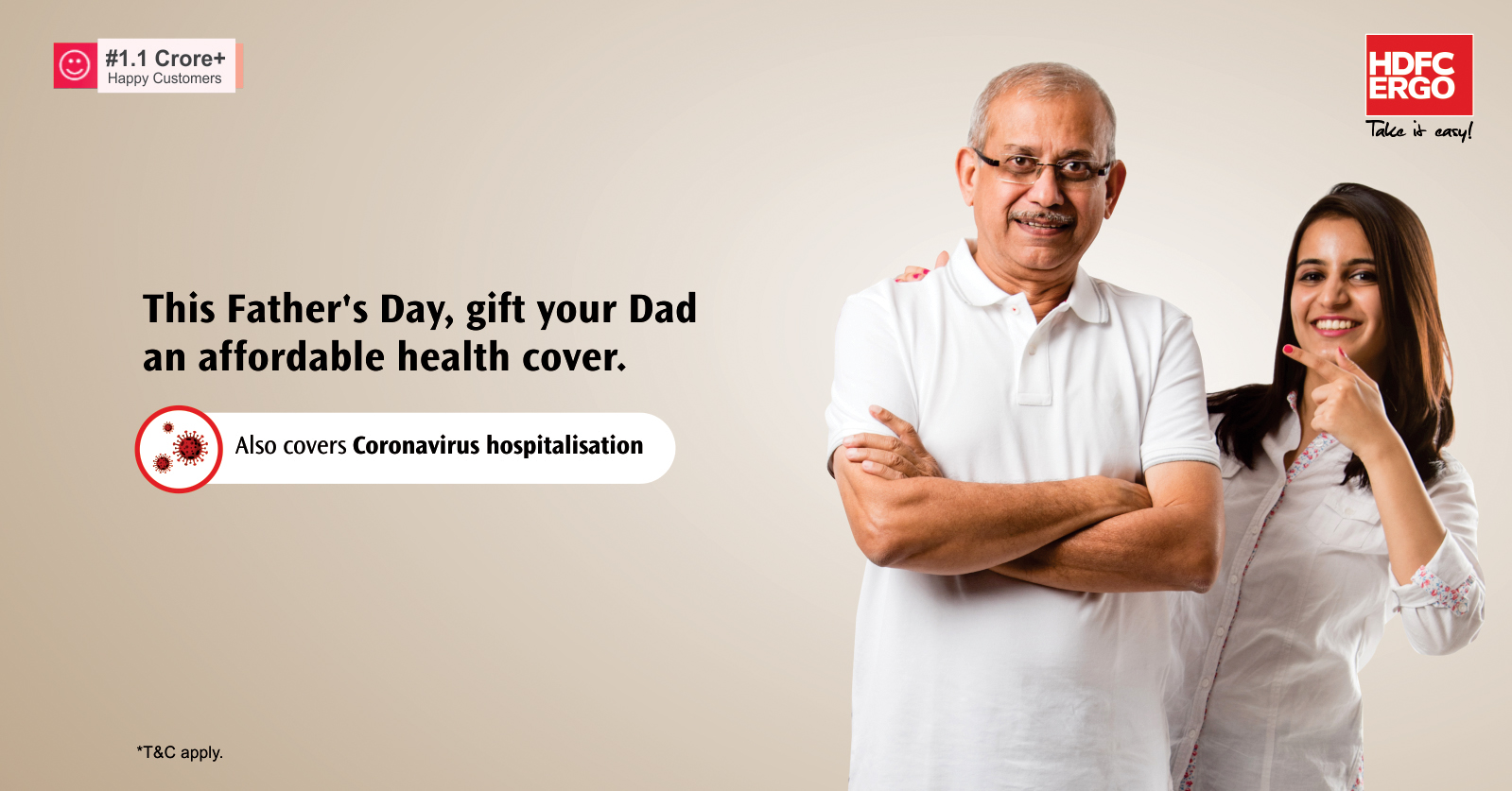 Spent focusing on our needs and wishes, your father have never given enough thought to himself.Covid-19 pandemic has restricted us to our homes, especially with our parents. Call it blessing in disguise, this pandemic is allowing us to spend time with our families. Bringing us closer to them, more than ever, living with our parents has made us realize what their needs are.
Why buying a health insurance plan as a gift is relevant in critical times?
Being a man of few words as he is when it comes to expressing love, he loves you more than anyone else. This father's day secure your dad with a thoughtful gift of health cover.
Also, cakes and bouquets are so outdated.
Say Thank you and make your father happy this father's day buy covering them under a health insurance plan that is affordable,shields against vulnerable diseases and covers Covid-19 hospitalization, too.
And, let care be your language of love.
Know more about our Exclusive Health Insurance Plans for Parents
What is COVID 19 hospitalization cover?
As a severe acute respiratory syndrome, COVID-19 soon became a pandemic disease, for the unstoppable speed of its transmission. Corona virus has red flagged the health of elderly like our parents. And, is calling us to act in preparation.
Besides, taking preventive and precautionary measures into our daily lifestyle, we need to be ready of the hefty medicare expenses that may come in our way.
Medical care expenses for hospitalization are on the rise. And, you need to be ready for all that while focusing on getting the required treatment.
We've got you covered.
While you focus on a quick recovery, we take care of all these expenses for you.
How to secure your father's health in an affordable way?
COVID-19 attacks your respiratory system directly, thus complications surface frequently in its patients. Keeping the need of today in mind,
Make preventive and precautionary measures your lifestyle.

Follow instructions from the local and governmental bodies.

Get a health insurance cover that covers Covid-19, plus other health ailments.

Check for the network hospital in your area- Cashless treatments often save the day!
HDFC ERGO celebrates this father's day with all those smart dads'and kids out there. We offer you an all in one health cover that gives comprehensive protection to your dad.
Know more about why my:health Suraksha is a perfect Father's Day Gift.
Key Features of my:Health Suraksha Health Insurance for Father
No entry age restrictions

Pay premium in monthly installments'

Also Covers Covid-19 hospitalization
Trust of #1.3 crore+ customers

10,000+ Cashless Hospitals Network

Cashless claims pre-authorized within 20 minutes`

Lifelong renewability

Save tax upto ₹75,000*
After all, "There are three things in life- your health, your dreams and the people you love. That's it."
HAPPY FATHER'S DAY!
Disclaimer: The above information is for illustrative purpose only. For more details, please refer to policy wordings and prospectus before concluding the sales. UID No. *T&C apply.my:health Suraksha HDFHLIP20049V041920 'With my:health Suraksha you can choose from monthly, quarterly, half-yearly, and annual premium payment option.#1.3 Crore+ Active Customers upto May - 2020 `Average time taken for approval of our cashless health claims is less than 20 minutes. Based on the data from 1st of October 2019 to 31st of May 2020, the average time taken for approval of our cashless health claims is less than 20 minutes. Subject to satisfactory submission of all relevant documents and information(s) to the Company. TAT for approval of pre-authorization requests is 60 minutes. Cashless hospitalization available only in HDFC ERGO network hospitals. Visit www.hdfcergo.com for your nearest network hospital .*Subject to change as per Tax Laws in India.**Cashless home health care facility is available selected.