Stay Active And Get Rewarded With Optima Restore
This is where the Stay Active benefit of our Optima Restore health insurance plan comes to the rescue. Like a smart yet empathetic personal trainer, it motivates you to start incorporating physical activity into your daily routine without demanding too much time or effort from you.

The Stay Active Benefit

The Stay Active benefit encourages you to increase the number of steps you take everyday by rewarding you with up to 8% discount on your policy premium at the time of renewal, based on your average daily step count throughout the policy year.
On taking 10,000+ steps a day, on an average, you get rewarded with the complete 8% discount on premium at the time of renewal.
One Benefit- Many Rewards
The Stay Active program makes your health and life better in many ways. You get to:
Save money on your premium at the time of renewal

Beat stress, clear your mind and feel happier everyday

Expand your social circle as you mingle with fellow walkers

Keep ailments at bay with your active lifestyle and remain fit and healthy

Step Up and Stay Active

Our step-tracking app does not discriminate between the steps you take in a park to the steps you take pacing the meeting room in office to the steps you take rushing to pick your child up from school.
No matter what activity you are involved in, as long as you are moving, your step-count will increase and so will your chances of getting the complete 8% premium discount at renewal.
Download the HDFC Ergo Health (formerly Apollo Munich) Health Jinn App now and start walking! The app is available on both Google Play and App Store.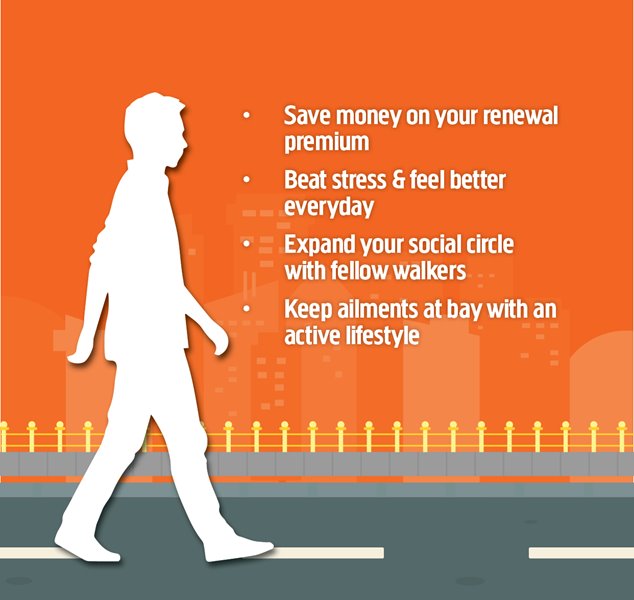 When it comes to your health, we leave no stone unturned
The Stay Active benefit is part of the Stay Healthy Package that the Optima Restore plan offers to care for your health. The Stay Healthy package consists of a variety of tools and resources to help you take care care of your health, such as:
Customised diet and exercise plan from our experts

Free online health risk assessment tool

Informative monthly health & wellness newsletter

Toll-free Healthline for free, confidential primary consultation and health-related counselling from experts

e-storage facility to store your medical reports for 24/7 access

Facility to set alerts to track doctors' appointments and medicinal intake

Great offers on health-related products and services
Living a more active, healthier lifestyle is not a mountain to climb. All you need to do is keep walking and moving, whether it is to pick up groceries, walk your pet or break out into dance on an especially happy day.
Enjoy the Stay Active benefit with Optima Restore and make #EveryStepCount